My mom has been testing out the vegan waters and has come up with some pretty tasty stuff. I'm not sure if I'm ready for a vegan diet but I've heard only good things. I've heard there's no crash after a big meal and energy levels are much higher. I think I'll make a better effort to bring some of these recipes into my day-to-day cooking.
This stew comes together very quickly and made a great week-night meal.
Ingredients:
1 tbsp olive oil
2 large onions, diced large (about 1.5 cups)
3 cloves garlic, crushed
1  large carrot, diced to double the size of a chick pea (about 1 cup)
1 celery stalk, diced same as carrot (about ¾ cup)
1 green pepper, diced same as carrot (about 1 cup)
1 tsp cinnamon
1 tsp paprika
½ tsp turmeric
1.5 tsp cumin seeds
1 cup raisins
2 cups sweet potatoes, peeled and diced same as carrot
1 – 28oz can diced or whole tomatoes
1 – 19oz can chick peas, drained and rinsed
½ cup white wine or chicken stock or vegetable stock
1 tsp chilli powder
Salt & pepper
In a large saucepan, heat oil over medium heat. Add onions, garlic, carrot, celery, and green pepper. Cook until vegetables soften. You'll want the carrots and celery well on their way to being soft. Add the cinnamon, paprika, cumin seeds, and turmeric. Simmer 1 minute and then add raisins, sweet potatoes, tomatoes, chick peas, wine/stock, and chilli powder. Stir all ingredients together and reduce heat to medium-low. Simmer until sweet potatoes are tender, 20-30 minutes. Be careful not to stir too much as the sweet potatoes become fragile and mushy if they cook too long. This is why you want your carrot and celery mixture to be quite soft as there isn't room for unlimited cooking time. Capisce?
Everything in the pot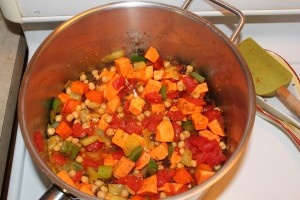 The stew is ready to eat once the potatoes are done but as with most stews this is better the second day!
Hello dinner!