Good lord this is one of my most favourite things! Well, I suppose I've said that before about food… bacon… pecan pie, guacamole… but this time I mean it! This casserole came into my life 5 years ago. To be fair I suppose it's been around my whole life but I only started eating it 5 years ago. That means I have 20 years to make up for! I better start cooking.
Would you believe I was a picky eater as a child? I know, how dare I! I didn't like mushrooms. I didn't like wild rice. I really just didn't like anything but crackers and cheese. Then, one thanksgiving I was invited to a boyfriend's house and I offered to make something. My mom suggested this casserole as it's a crowd pleaser. It was a tough sell but I did it and I've never looked back. Trust me on this one.
Ingredients
¾ cup (uncooked) brown or white rice
1 cup (uncooked) long-grain wild rice1
4 cups (approx 1 bunch) broccoli florets
1 tbsp olive oil
1 medium onion, small diced
1 tsp chopped garlic
3 cans cream of mushroom soup2
½ cup cream or milk (whatever you've got)
2 ½ cups shredded cheddar cheese, separated
¼ cup chopped fresh parsley
Salt & Pepper
Prep time 1 hour
Feeds a crowd
Cook white or brown rice according to package. Set aside.
If you know how to cook wild rice, do that too. If not… pour rice into a saucepan and fill with water to about 1 inch above rice. Bring to a boil; allow rice to boil for 5 minutes. Remove from heat and drain water. Rinse rice with cold water and then re-fill back to 1 inch above rice. Allow rice to sit in this cold water for 45 minutes to an hour. After this, put the pot back on the stove (you can leave the same water in the pot) and once again bring it up to a boil and allow rice to boil for 20 minutes. After this is complete the grain should mostly be popped open and curled, showing a light grey inside. Drain any excess water. The rice is done!
Steam the broccoli florets until tender.
Pre-heat oven to 350F.
In a large frying pan over medium-high heat, add the oil and onions. Cook until translucent and add garlic. Allow garlic to cook for a minute or two. Reduce heat to medium-low and add all 3 cans of soup, cream or milk, 1 cup of cheese, salt and pepper, and half of the parsley. Simmer everything together for a few minutes. Stir in both types of rice. Allow to simmer for an additional 5 minutes.
In a large casserole dish or lasagne pan, spoon in half of the rice/soup mixture. Next, spoon in all of the cooked broccoli and then cover with the remaining rice/soup mixture. Top with the remaining grated cheese and parsley4.
Bake uncovered for 45 minutes or until cheese is bubbly on top.
Some photos
First layer of rice mixture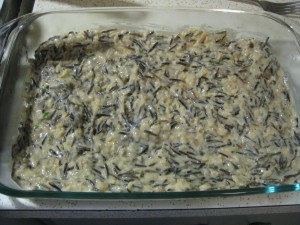 Adding the broccoli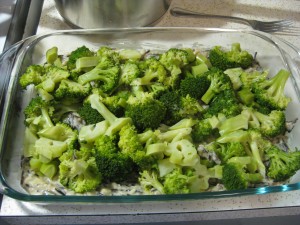 Next layer of rice mixture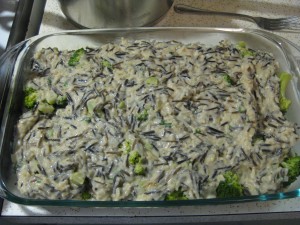 Finally the cheese & parsely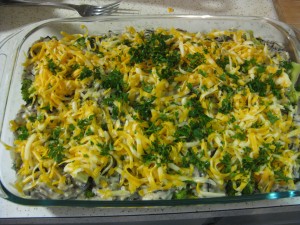 And just out of the oven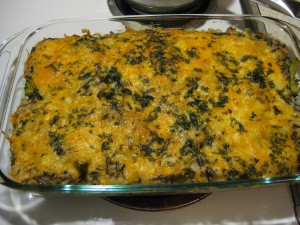 MMMMMM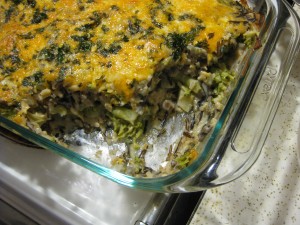 Notes:
Most large grocery stores carry pure wild rice in the bulk food section; it's long grain and black. Don't use the pre-mixed stuff, there's almost no wild-rice in it.
I use Campbell's low sodium soup. If you choose a different brand, be sure to choose one that is condensed. If you choose a brand that already has water added to it, your mixture will be very thin.
Overall there are a lot of steps in this recipe. Often I'll cook both the rices the night before. You can even make the entire rice/soup mixture the night before. If you're baking the casserole with a rice/soup mixture that has just been removed from the fridge, add an additional 10 minutes to the bake time.
At this point you can put the casserole in the fridge and then bake it once you're ready to serve or once you get to your potluck etc.