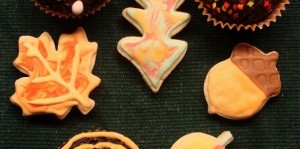 Inspired by this post from Brown Eyed Baker, here are a few items I'd like to conquer this fall:
Chicken Corn Chowder – my family spent 7 Christmases in Banff and the chicken corn chowder at the Coyote Cafe is TO. DIE. FOR. I want to attempt to recreate it.
Vegetarian Chili – I have a great recipe for meat chilli posted here but I'd like to attempt a vegetarian alternative. I'm thinking I'll try this recipe first.
BETTER mashed potatoes – my mashed potatoes aren't great…they deserve an "NI" or "needs improvement" if I was still in grade 3.
Caesar Salad – I've tried a few different methods and dressings but haven't settled on one. Came close the other day but then I was still tasting garlic 24 hrs later so I think I need to take a 2nd try.
PIE CRUST – I have a deep dark secret. I have never successfully made a decent pie crust. I have a really awesome mother who comes to visit 2ce a year and makes me a dozen crusts. She even rolls them out on a pizza pan and I store the stack in the freezer (waxed paper between each). I am hanging my head in shame… but hopefully not for much longer!
A few other goals for the fall include:
OMG POSTING MORE OFTEN PLZ
Posting on some of my favourite kitchen tools
Making thanksgiving dinner for the 2nd time. First time was a fluke and just about everything turned out well. Second time means I need to up the ante.
Do you have a great recipe for any of the items above? Please share! I'd love to try them.