I've made these a few times this summer. They travel really well and are a great alternative to making a pie. There's no cutting or forks required. They also have a great fresh, cool summer taste.
This recipe is adapted from Joy of Baking.
Ingredients:
Crust:
1 + ¼ cup graham cracker crumbs
2 tbsp white sugar
5-6 tbsp butter, melted
Filling:
3 large egg yolks
300 ml Sweetened condensed milk1
1/2 cup fresh lime juice
2 tsp lime zest
Makes 12 regular sized cupcakes2.
Prep time: 20 minutes
Preheat oven to 350F.
For the crust, melt the better in the microwave. Combine melted butter with graham crumbs and sugar. This will result in a moist, crumbly mixture.
Line a regular sized muffin pan with cupcake papers. Evenly distribute the crumb mixture into the 12 cups. Press into the bottom of the cups with your fingers or a spoon.
Bake crust for 10 minutes. Remove and allow to cool.
To prepare the filling: Add the egg yolks to a large bowl and beat with a hand mixer for 2-3 minutes. Alernatively you can use a stand up mixer. Once the yolks are pale and fluffy, turn the mixer to low and stream in the sweetened condensed milk. Continue to beat for 3 minutes. Add the lime juice and zest.
Divide the prepared filling into the crust cups.
Bake for 10-12 minutes.
Remove from oven and allow to cool. Once cool, refrigerate for 2 hours or overnight.
To serve, top with whipped cream or if you're feeling lazy… redi-whip.
Voila!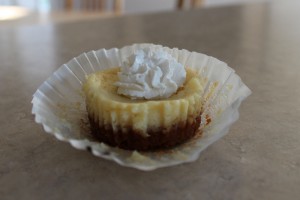 Notes:
The original recipe calls for 400 ml of sweetened condensed milk (SCM). At my grocery store, SCM comes in 300 ml cans. There's no way that I will use the remnants of a can of SCM so I made the executive decision to use just 300 ml (a.k.a one can). SCM is VERY sweet so the cupcakes didn't suffer. If, at your local grocery store, the SCM comes in larger cans then by all means give it a whirl but this recipe doesn't need it. Does this mean I can call them low-fat cupcakes?
To make a 9" pie, follow the same instructions. Grease the pie plate and adjust the baking time of the filling to 10-15 minutes.