In an effort to eat a bit healthier, I turned to my health-conscious friends Janet and Greta Podleski of "Eat Shrink and Be Merry". These girls are all about taking everyday classics and making them a little friendlier on your waste-line. I recently started doing hot yoga and I wanted to adjust my diet along with my exercise. Tonight I tried out their take on Shepherd's Pie.
Ingredients:
Filling
1 ½ lbs extra-lean ground beef
1 cup chopped yellow onion
2 tsp chopped garlic
1 tsp paprika
½ tsp thyme
1 cup frozen peas and carrots combo
1 cup frozen or canned corn
2/3 cup beef broth
1 ½ tbsp chili sauce (I used Tabasco)
1 ½ tbsp flour
1 tbsp Worcestershire sauce1
¼ tsp salt and pepper
Topping
2 lb yellow potatoes
2 cups chopped butternut squash
¼ – ½ cup sour cream
½ cup parmesan cheese
¼ tsp salt
Dash nutmeg
Total Serving: 6
Total prep time: 40 mins + 25 mins bake time
To prepare the topping, chop the potatoes and squash into similar sized chunks. Toss ONLY the potatoes in a pot of water and turn to boil. Once water has begun boiling, add squash pieces2. Boil under tender and drain.
Mmmmm boiling potatoes and squash…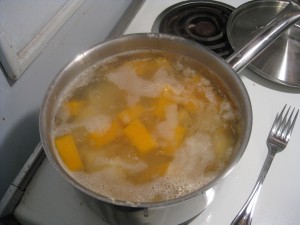 Return vegetables to pot and dump into almost all of the parmesan. Put the lid on to allow cheese to melt, about a minute. Add the sour cream3, salt, and nutmeg. Mash the crap out of it and get rid of lumps. Put the lid on the pot and set aside.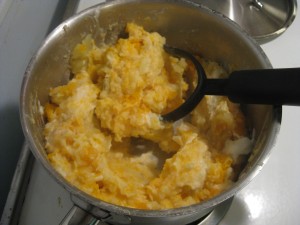 To prepare the filling, add the meat, onion, and garlic to a large frying pan on medium high heat. Cook until meat is no longer pink and onions are soft. Add paprika, thyme, peas, carrots, and corn. Mix well and allow to continue to simmering at medium heat.
In a bowl, combine broth, chili sauce, flour, and Worcestershire. Add this to the pan with the meat along with the salt and pepper. Turn heat to medium-low and allow to simmer 5 more minutes. Sauce will thicken.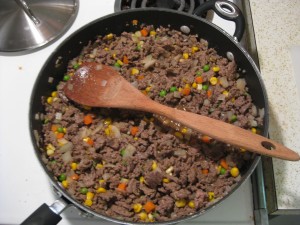 Once filling is thickened up, pour it all into a large 8 cup casserole dish4.Top with the potato mixture and the remaining parmesan cheese. Fluff the potatoes with a fork. Bake for 25 minutes or until sides are bubbling at 375F. Allow to rest 5 minutes before serving.
There she is!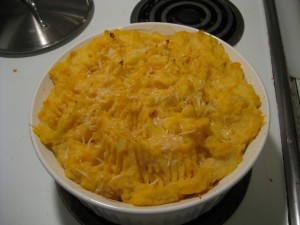 Look at that fluffy topping! It's so light and tasty with the squash.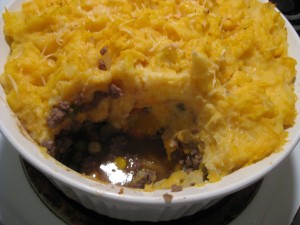 Notes:
Wor-chest-ter-shire…. Wor-sest-ter-sheer…. Wor-chester-shireee…. Ok, here's a secret… it's pronounced Wusst-i-sheer. 'Wusst' like 'What a wuss' but with a 't'. The 'i' makes the same sound as the 'i' in 'Erica'. WUSST-i-sheer. Now you know.
The squash cooks faster than the potatoes and will get slimy if they cook too long.
In the original recipe it says ½ cup sour cream but this was too much for my potatoes. I recommend adding it by the tablespoon and stopping once your potatoes are smooth. Alternatively you can use milk, butter, cream, etc. Any will work, all a matter of preference.
I used one of those large round Corel casserole dishes but you could easily put it in a lasagna pan or whatever you've got. Make sure it's not over full as it will bubble up the sides and spill out into your oven if the dish is too small.