I came across this recipe last fall when I was hosting a Mexican fiesta. It's very simple and has a classic taste. My favourite part is the fact that not only can you make it the night before but it is recommended that you do so! It freezes really well. I like to freeze it in single servings, heat it up and eat it with a piece of toast for lunch. You can easily change up the vegetables if you want. I add frozen corn kernels if I have them on hand. You can also change up the peppers if you'd like, add green, yellow, orange, etc. Sure, the recipe starts with a pound of bacon but the taste is awesome and this puppy makes almost 8 servings so you're really not eating THAT much bacon… gosh I love bacon…
It's not especially spicy so if you want an extra kick add some cayenne, red pepper flakes, or whatever you'd like. This recipe is very flexible. Thank you to my friend and yours, the Nova Scotia giant, Michael Smith.
Ingredients:
1 lb bacon, chopped
2 Spanish onions, finely chopped (3-4 cups)
1 head garlic, peeled and sliced1
2 red peppers, chopped
2 lbs ground beef
4 heaping tablespoons chili powder
2 x 28oz cans diced tomato
1 x 19oz can black beans
1 x 19oz can kidney beans
Salt & Pepper
Total prep time: 40 mins prep, 1 hour simmer
Feeds a crowd
Heat a large pot over medium-high heat and add bacon. Add a couple of tablespoons of water to get it sizzling.
Mmm…bacon…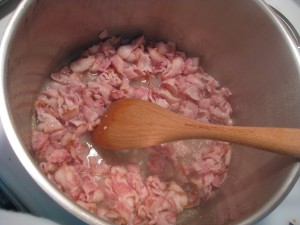 Once the bacon is cooked, but not crispy, pour off the excess fat2. Add onions, garlic, and red pepper.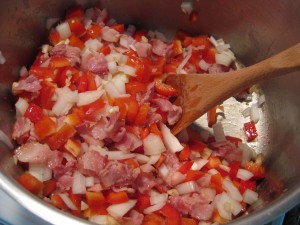 Cook until everything is soft and aromatic.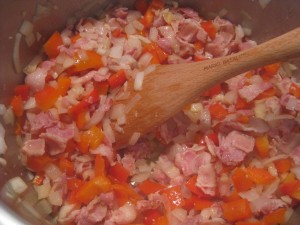 Add the chili powder and the ground beef.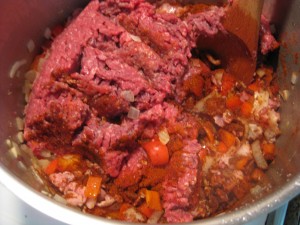 Give it a really good stir to get all the vegetables coated in the chili powder and to break up the beef. Let that cook for about 5 minutes, tossing with a large wooden spoon.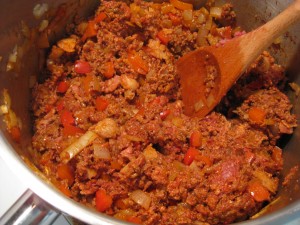 Drain and rinse the beans3 (can be done in a colander). Add tomatoes and beans to the pot and season with salt and pepper. Normally I don't add a lot of salt to anything that I cook as:
a)      We all eat too much salt anyway, and;
b)      There is usually another ingredient in the recipe that is full of salt (example: chicken broth).
In this case, there isn't much salt other than the chili powder so add about 2 teaspoons. I always go crazy with fresh black pepper but 2 teaspoons is a good estimate.
Stir all the goodness together and turn heat to medium low. Allow to simmer for 1 hour, stirring every 10-15 minutes.
This is the chili just after everything has been added and stirred together.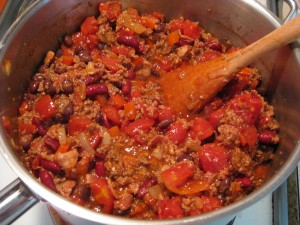 Here it is simmering away nicely.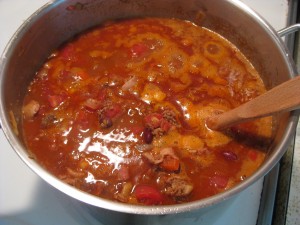 Silly me I didn't take a picture of the finished product! It's chili… it will look red and tasty… and full of beans…
Something I've done is made the whole thing the day before and then put the whole pot in the fridge (once it's cooled). This way, when I want to serve I can take it out and put it right on the stove. Being it up to a simmer gradually, stirring regularly so the bottom doesn't burn.
Notes:
Yes, a whole HEAD of garlic. Trust me.
If you're really into saving calories, pour off the bacon fat and then spoon the bacon onto paper towel to get rid of as much as possible. I don't quite go to this measure as bacon fat is the secret ingredient to make every dish that's ever existed taste that much better. Sure, I might as well just rub it all over my thighs but it's not like I eat this way everyday… maybe…
According to my secret source, you should always drain and rinse beans. Something about the fact that while in the can they release gasses and that should be rinsed off… just drain and rinse them. Frankly, I chose to drain the beans because bean juice is one of the nastiest substances that has made an appearance in my kitchen. (Ok, parmesan cheese smells like vomit when you cook it but the taste overrules the smell) My point… drain and rinse your beans and eat parmesan cheese at every opportunity. Wow, that was gross.
Boomer is always a great help. Here he is providing me with all the encouragement I could ever need. He's looking at me and thinking "Hey woman, are you done yet so I can come slurp up anything you dropped on the floor? Gee you make life so tough for me."