The title rhymes! You have to try it!
Do not fear the strange Italian pasta! This recipe does require a bit of prep but its well worth it. The ingredients are similar to lasagna but assembled a bit differently. This recipe comes from the lovely Giada Di Laurentiis with a bit of my own instructions.
Ingredients:
Olive oil
1 medium onion (size of a softball) chopped
1 pound ground beef1
Salt & pepper2
1 box (about 14 pieces) manicotti noodles (found in the pasta aisle, they look like jumbo penne noodles)
1 container ricotta cheese (400g or about 1.5 cups)
3 cups grated mozzarella cheese
1 cup grated parmesan cheese
2 tablespoons chopped parsley
2 cloves garlic, minced
4 cups marinara sauce3
Total prep time: 45 mins
Total cook time: 35 mins
Feeds 4, probably with left-overs
In a large frying pan, heat 1 teaspoon olive oil, onion, and meat over medium heat. Season with salt and pepper. Cook until meat is no longer pink and onion is translucent. As this is cooking, break up the meat. Remove from heat and allow to cool.
Line a baking sheet with waxed paper. Bring a large pot of water to a rapid boil. Add 1 teaspoon salt. Add manicotti in batches of 4 (depending on the size of your pot you can add more or less noodles, don't crowd the pot). Cook manicotti according to directions – about 7 minutes. When noodles are done, place them on the lined baking sheet and continue with the next batch.
Meanwhile, in a large bowl, combine ricotta, 1 ½ cups mozzarella, ½ cup parmesan, parsley, garlic, salt and pepper. Stir in cooled meat and onion mixture.
Spray a 9"x13" baking dish (lasagna dish) with cooking spray. Spread 2 cups of marinara sauce over the bottom of the pan. Now comes the tricky part… stuffing the noodles. I like to set up my workspace as shown below: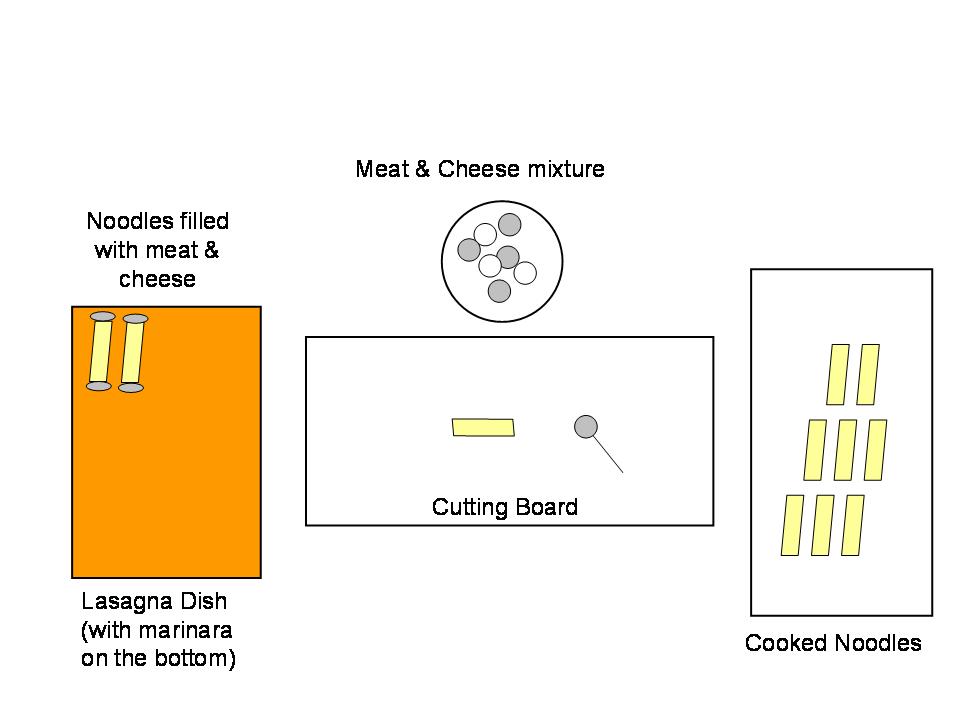 So the meat and cheese mixture needs to make it's way into the noodles and the set into the lasagna dish on top of the marinara sauce. Stuffing the noodles is no delicate task. I'll be honest, I use my fingers. I have tried using a spoon, I have tried making an injection bag out of a clipped Ziploc bag… my fingers work best. If you come up with a new tactic please share it! So stuff all your noodles, be generous. I have made this a few times and the meat & cheese mixture will stuff all the noodles pretty nicely so don't be cheap. Line your stuffed noodles in the lasagna dish in a single layer, don't stack these puppies. Cover the stuffed noodles with the remaining marinara sauce. Top with the remaining mozzarella and parmesan. Bake for 30 to 35 minutes at 350F. Allow to cool slightly before serving.
This dish is great with garlic bread and a nice salad. It is also excellent left-over for lunch the next day.
Notes:
If you're not into eating beef or you want to change it up, try ground turkey or chicken. Both work just fine.
I swear by fresh ground pepper. You can get a pepper mill for dirt cheap and you can get peppercorns at any grocery store in the spice aisle.  I also enjoy kosher salt instead of table salt. Again, you can kind this with all the rest of the salt at the grocery store. Be careful though, do NOT use kosher salt for baking.
If you're ambitious you can make your own marinara sauce, which I'll admit is very tasty and impressive. This would require a LOT of prep so stick with the canned marinara sauce from the grocery store. Choose a simple one (either 'original' or 'herb and garlic'). I don't recommend choosing one that already has meat in it or has a lot of extra ingredients (mushrooms, vegetable medley). The stuffed noodles are the highlight here, let's not take away from that.