I made this recipe last Friday for a friend and it took no time at all to put together. It's really simple and a great meal for a weekday. This recipe comes to me from my lovely Aunt Donna who seems to have a great collection of recipes for easy and tasty meals.
Ingredients:
3 tbsp soy sauce
3 tbsp peanut butter
2 tbsp minced ginger root
1 tbsp brown sugar
1 tbsp sesame oil
1 tbsp rice vinegar
2 cloves garlic, minced
Vegetable oil
1 lb skinless, boneless chicken, cubed (breast or thigh)
1 onion, small diced
1 red bell pepper, thin sliced
A couple of good handfuls of spinach
1 package egg noodles
Prep time: 30 minutes
Makes 2 large portions… if you're serving more than 2 people, double it up.
Combine soy sauce, peanut butter, ginger, sugar, sesame oil, rice vinegar, and garlic in a small bowl. Set aside.
In a wok or large skillet, heat oil over high heat and add chicken and cook through. Remove chicken from pan, reserving any juices.
(now is a good time to put your pasta on to boil)
Add onion and peppers to pan and sauté for 3-5 minutes.
Reduce heat, return chicken and juices to pan along with peanut butter sauce. Toss to coat. Let simmer 2 minutes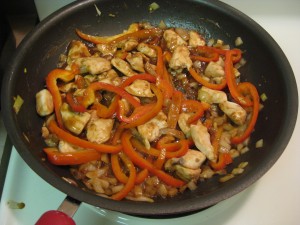 Add spinach and toss until the spinach is fully incorporated and soft. (The spinach will look like a lot but it warms down to just about nothing.)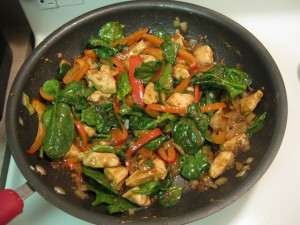 Serve over hot pasta!