This recipe came to me from a friend who brought it to a potluck at my place. (Don't you just love potlucks??) Everyone has eaten pasta salad in their life but this one is not your boring 1990 family picnic deal – this one has edamame (oooo culture). Note that MS Word does not recognize edamame. MS Word needs a shot of culture. This recipe is very easy to throw together and has a great fresh taste. It also gets better with time… so make it early and let all the flavours fester. Adapted from epicurious.
Ingredients:
¼ cup white-wine-vinegar
2 tbsp water
2 tsp salt
½ tsp white sugar
2 tsp minced fresh tarragon or ½ tsp dried
1 large clove garlic, minced
½ cup olive oil
1 lb your choice pasta (I like shells or bow-ties)
½ lb edamame beans, steamed and drained1
2 pints cherry or grape tomatoes, sliced in half
½ cup fresh basil, cut into ribbons (I can't spell chiffonade)
Prep time: 15 minutes + fridge settle time2
Total servings: 8 for a potluck, 4 as a dinner side
Whisk together vinegar, water, salt, tarragon, garlic, and some black pepper to taste. Add oil in a stream, whisking will pouring. Give it all a serious whisk and set aside.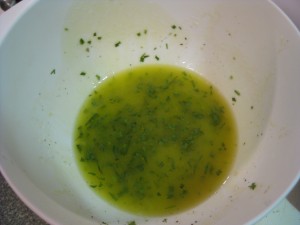 In the meantime, cook paste until tender and rinse well. Toss pasta, tomatoes, edamame, and basil in with the dressing. Serve cold.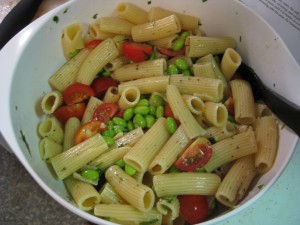 Notes:
I must give credit to my friends Jay & Keo for choosing to put the edamame beans in. The original recipe calls from frozen peas. You could totally do this also but the edamame is awesome. You can find edamame in the freezer section at the grocery store. At my local store it's not with the other vegetables but with the… vegetarian healthy stuff? I'm not sure… but it's there! You cook them the same as frozen peas. I make it easy for myself and do it in the microwave.
Really you could eat this right away but do yourself a favour and give it a few hours to settle.