This recipe is easily in my top 5 favourites. If I could ask you to make one of my recipes, this would be it. Last winter my brother invited myself and our cousins for dinner and made this for us. I was sold after the first bite. My brother and I have both made it numerous times all to rave reviews. My old roommate, Dave, wanted to surprise his girlfriend last valentine's day. He was scheduled to fly in the weekend after valentine's day but changed his flight to the 14th without telling her. The plan was to get in early, get to her house, get dinner ready and have her walk in the door after work to have him and this great dinner waiting. Hello CUTE. One problem… Dave doesn't especially cook. All of my bitching and nagging as his roommate seemed to disappear when I helped him plan the menu and then teach him how to cook everything. The week before he was to leave, we tried out this Butter Chicken. The night before Dave flew out, I measured out all the spices so that when he got there he would be prepared… that and no one wants to buy 8 different spices for one meal. Dave made it to Saskatoon and wooed his girlfriend. The chicken turned out which tells you… if Dave can make it, so can you. This recipe comes to us from the saucy Trish Magwood.
Ingredients:
1 cup plain yogurt (I like Balkan style)
¼ cup lemon juice
2 tsp ground cumin
2 tsp ground coriander
2 tsp cayenne pepper1
1 tsp garam masala
½ tsp ground tumeric
2 tbsp minced fresh garlic
1 tbsp minced fresh ginger
2 tsp salt
3 lbs boneless, skinless, chicken (I use breasts but you can use thighs or a combo)
3 tbsp butter
1 medium onion, small diced
4 tsp cumin seeds (SEEDS, not ground)
1 chili, minced (I use whatever small chilis are at the grocery store, jalapeno works)
2 cloves garlic, minced
1 cup crushed tomato
1 cup heavy cream (whipping cream 35%)
Fresh coriander, chopped
Total prep time: 15 minutes night before, 1 hour night-of
Feeds 4
The night before or at least 4 hours before dinner… prepare the marinade. Add the yogurt, lemon juice, cumin, coriander, cayenne, garam masala, tumeric, garlic, ginger, and salt to a bowl. Mix er' up! Add chicken to a large Ziploc bag and pour in marinade. Seal bag and slosh the chicken around inside to coat thoroughly. Put bag in the fridge. I like to put the bag in a dish just in case it decides to leak.
1 hour before dinner… preheat oven to 400F. Remove chicken from fridge and pour the whole bag into a lasagna dish. Spread the chicken out into one layer. Bake for 25-30 minutes or until juices run clear.
While the chicken is cooking… in a large sauté pan, heat butter over medium-high heat. Add onions and cook until translucent, about 5 minutes. Add garlic, cumin seeds, and minced pepper, cook an additional 5 minutes. Lower heat to medium-low and add tomato puree and salt. Add cream and continue to simmer for 2-3 minutes.
Once chicken is ready… pull chicken pieces out onto a large cutting board. Cut chicken into bite sized pieces. Toss all pieces into sauté pan with the simmering sauce. Allow to simmer for 20-25 minutes on medium-low. In the meantime make some rice, I like to make jasmine rice with this dish. If you go to the rice aisle at the grocery store you will see it, it's pretty common. If you don't have it, regular old Uncle Ben will do the trick just as well. Look at the beautiful orange colour…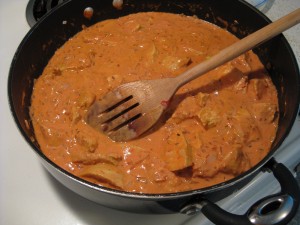 That's it! That wasn't so bad, eh? I'll admit, this recipe is a bit intimidating with all the spices and it does require a bit of labour. It is SO worth it. We haven't even gotten to the best part… this is a pretty large recipe and will feed 4 comfortably… or it will feed 1 for 4 meals… this meal is to-die-for as left-overs. I will bring it as lunch and eat it with my fingers, you don't even have to heat it up. Ok, now I want to make this…
Notes:
Cayenne pepper… do not be afraid! If you are VERY opposed to spicy food you can omit this AND the chili pepper that goes in the sauce later. Honestly though, it's really not that spicy. Maybe try it with a bit of cayenne and no chili pepper, you'll survive, I promise.
UPDATE!! My favourite brother, who also loves this recipe, has provided me with lower-fat instructions… see below:
This is a recipe I tweaked in the week after I'd broken up with a girlfriend. I wanted some comfort (which is generally fatty and delicious) but realized after one trip to the gym that I'd put on considerable "relationship weight" which I obviously needed to lose if I had a hope of finding another gf.
Butter Chicken was my salvation. A variation of Trish Magwood's recipe is one of my go-to dishes mostly because of the delish left-overs! I decided to take a crack at making a slightly less obesity-inducing version while maintaining all (ok, the majority) of the flavour.
-Prepare marinade as directed (substitute lower fat Yogurt if you're desperate to save calories…I didn't)
-Marinate chicken overnight. 2 hours of love is never enough. 24 hours is just enough time for that chicken to get happy
-Bake as directed, until juices run clear (and not longer, nobody likes dry chicken)
Once the chicken is done in the oven (it's important you wait), remove from pan and reserve ½ cup cooking juices (don't waste flavour!!)
-substitute olive oil for butter/ghee in the sauce.
-follow recipe on onions/garlic etc. until you get to the "add tomato puree" part
When you add the tomato puree, add 1 cup each chopped broccoli and cauliflower (bite sized pieces, the bigger they are, longer they take to cook), ½ cup carrot (sliced on the bias)
-add ½ cup reserved cooking liquid
-substitute 10% cream for the 35% cream
Cover and let simmer for 15 minutes to allow vegetables to cook
Remove lid and continue to simmer until sauce thickens. The longer you let it simmer, the more intense the more delish it will be. Be sure to stir every few minutes to avoid burning.
Serve on Basmati or Jasmin rice.