Ok people, here it is. This recipe is the reason I have friends. I have changed people's opinions of avocados with this puppy. If you have a friend that is afraid of avocados or hesitant to try them, serve this up and they'll be sold after the first bite. It comes to us from the lovely Barefoot Contessa.
Ingredients:
4 haas avocados1
3 tbsp lemon juice
8 dashes hot pepper sauce (I use Tobasco)
½ cup red onion, finely diced
1 large clove garlic, minced
1 tsp salt
1 tsp black pepper
1 medium tomato
Total prep time: 20 mins
Serve immediately if you can, this does not last very long in the fridge.
Scoop out the avocado. This is a bit tricky but once you get the hang of it, you'll look forward to it. Here's a helpful video: http://www.youtube.com/watch?v=BxQwLpIqIPs
The jist of it is… cut the avocado in half from tip to tip but cut around the pit inside. Now, twist the two halves apart and you'll see the pit will stick to one half. Thwack the pit with a knife so the blade gets wedged into it. Twist the knife so the pit comes out but is still stuck to the knife. With a paper-towel, pull the pit off the knife blade. Now you have 2 avocado halves. Grab a spoon and scoop out the innards into a large bowl. It is ok to have large chunks, they will be dealt with later. Immediately add lemon juice, hot sauce, onion, garlic, salt, and pepper.
Here is what my one-scoop avocado half looks like: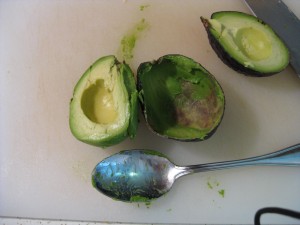 Here's what it looks like with everything in the bowl!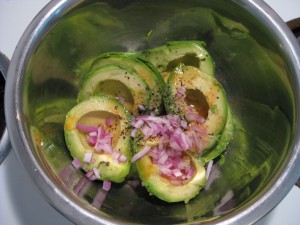 With one hand on the edge of the bowl and the other holding the knife, run the knife through the mixture and gradually turn the bowl as you do this. Basically you don't want to mush the avocado too much but you want it in little bits so you can scoop. I much prefer it chucky like this.
Now, slice tomatoes in half and remove the seeds. These tend to just be gooey and no one likes them anyway. Small-dice the tomatoes; add to the bowl and toss with a spoon. Serve immediately2 with tortilla chips (I like the multi-grain ones).
Here she is!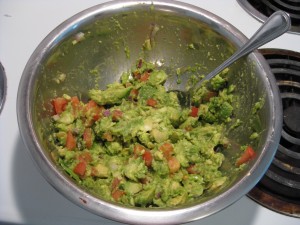 I like to serve it with multi-grain Tostitos!
Notes:
Haas avocados are the dark green, ugly ones. They turn very dark, almost black, when they are ripe. You want them at this state. They should be tender but not too squishy to the touch. If they are still quite green and firm, bring them home and put them in a bowl next to bananas to speed up the ripening process.
Ok, so you CAN put this stuff in the fridge but not for too long. It will really only last for a couple of hours. The avocado turns brown and gets slimy pretty quickly.